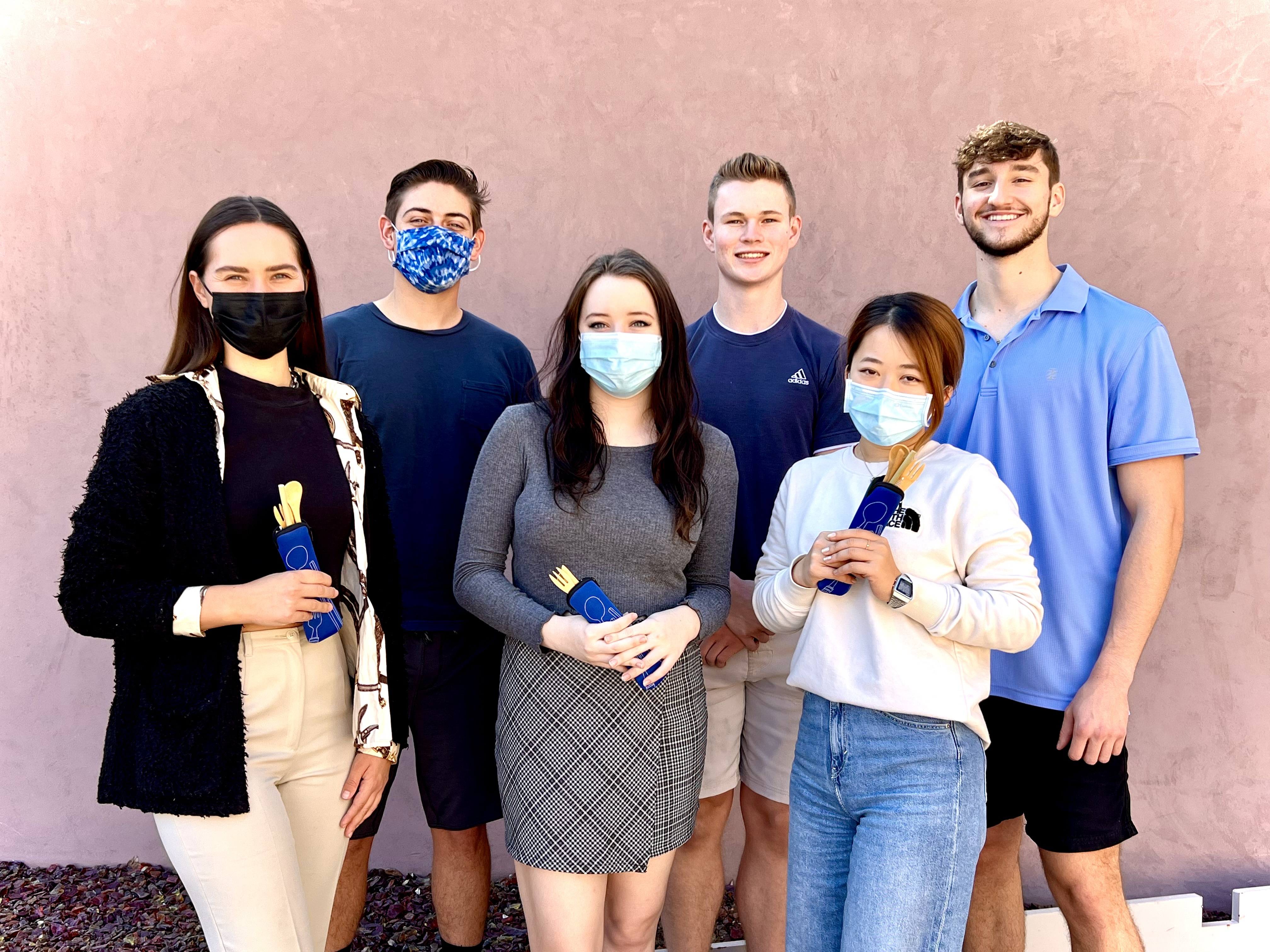 Photograph by Maureen Kobierowski, ASU Humanities Lab.
ASU Plastic Reduction
Lab: Food, Health and Climate Change, Fall 2021
Instructors: Joni Adamson, Rimjhim Aggarwal
Type: Campaign
Tags: Sustainability, Food, Plastic, Environment
Team: Sebastian Ching, John Stachnik, Madison Canon, Mitskui Tanigaki, Parker Philips, Jasmin Otto, Eliana Burns
Learn more about this Lab
About the outcome
It's hard to imagine life without plastic. Yet even though it's so useful, the environmental and social repercussions are enormous. By distributing reusable cutlery, conducting an informational campaign, and advocating for washing stations in campus dining halls and restaurants, this project will support behavioral shifts reduce the impact of single-use plastics Arizona State University.
About the team
My name is Sebastian Ching and I am a second year Finance major at ASU. I was born and raised in Arizona and have witnessed first hand some problems facing the environment. I'm so glad to be part of a group tackling the issues facing our future and helping promote change.
This is Madison Canon and the members of plastic waste team. I was born in Long Beach, California but was raised locally here in Peoria, Arizona. I am majoring in Business Supply Chain Management with a minor is Business Marketing (Digital and Integrated Marketing Communications). Seeing the affects of plastic and how it can strongly alters natural surroundings over time should inspire our drive to make a change. We have all the resources accessible, why not use them to our advantage? Our goal is to make small everyday uses into a long term benefit for global change and limit plastic waste. We decided to target reusable utensils to try break the habit of single-use plastic.
My name is John Stachnik and I am a Business Entrepreneurship Major from Dallas, Pennsylvania. I recently transferred to Arizona State University and am continuing this research project in hopes to leave my mark at ASU by doing something great that not only changes our campus for the better but also helps the environment around us. Coming into the Humanities Lab I did not think it would affect my day-to-day life as much as it has. In doing so I focus much more on how to be sustainable and more eco-friendly. In working with my group I have met amazing people from diverse backgrounds that have opened my mind to the world around me. These people have not only been great to work within the project, but they have also taught me ways to improve on my passions outside of the classroom. The hard work ethic within this group is academically unmatched and I am honored to say we have put something together that will better Arizona's environment for years to come
This is Mitsuki Tanigaki and I am a member of the plastic waste team. My home country is Japan and taking major as sustainable business, and it's one of the reasons why I'm at ASU. ASU should have a lot of plastic use on campus, but there is no alternative solution for students. Our goal is to make people realize that how reusable utensils are useful and why, and how we need to change our daily life addicted to single-use-plastic.
Parker Phillips is a senior in the School of Sustainability whose focus is on finding innovative social and environmental solutions to food system challenges. He utilizes his strengths in systems thinking and team management to advance the impacts of his team's deliverables.
Eliana Burns is a senior studying Sustainability at ASU. She is also completing the first semester of the MSUS 4+1 accelerated masters program. She is particularly interested in international environmental policy, climate justice, and climate refugees. When she is not studying, she is participating in local performing arts, specifically theatre. She hopes to combine these interests and continue to pursue work in the environmental humanities.
My name is Jasmin Otto, I am 25 years old and a Masters student in the Global Sustainability Science program, which is the joint double degree program by Arizona State University and the German Leuphana University (LUL). I am from Germany but currently at ASU as an exchange student for one semester. I completed my bachelor degree in Ecology and Environmental Planning.