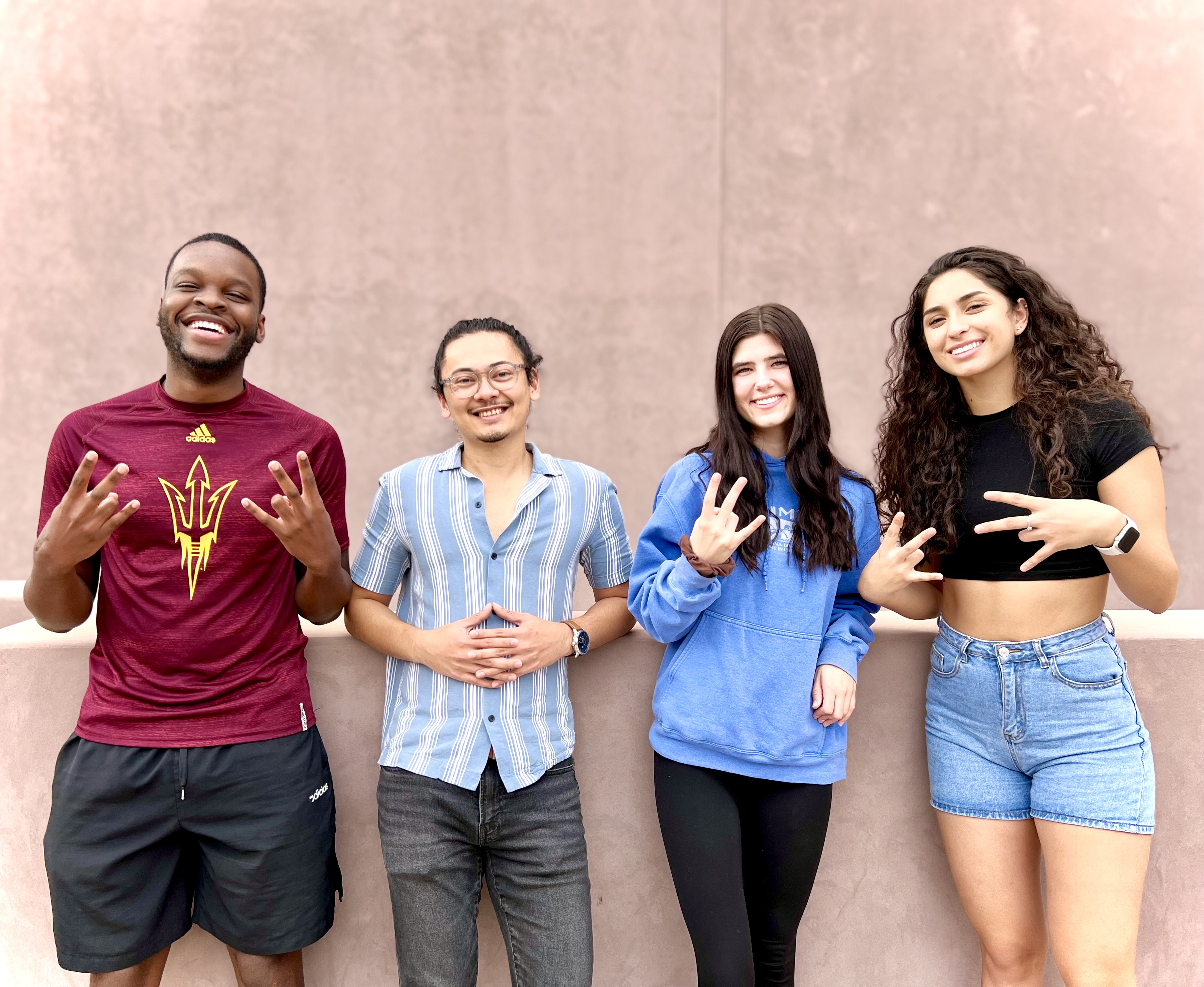 Photograph by Maureen Kobierowski, ASU Humanities Lab.
Food Label Swag Bags
Lab: Food, Health and Climate Change, Fall 2021
Instructors: Joni Adamson, Rimjhim Aggarwal
Type: Campaign
Tags: Sustainability
Team: Ashley Tapia, Toron Williams, Jeremiah Yorker, Min Ko, Leah Gronquist
Learn more about this Lab
About the outcome
Food waste is a huge problem in the United States, with significant effects on carbon production, landfills, starvation, and more. By educating people about expiration dates, food labels, and other nutritional information, this campaign will seek to improve the local food community at Arizona State University.
About the team
Hello! My name is Ashley Tapia and I am a sophomore at ASU studying Business management. I am a first generation college student in my family hoping to be the first to make a difference. I come from an immigrant family and I hope to make everyone proud of everything my family has done for me for this opportunity. In my Food, Health and Culture humanities lab, we all plan to make a difference on campus. My group wants to make a difference with the food waste issue in our food system. We believe by educating more students on the definitions of the food labels, we could help their food insecurity, we can start to change the ethics of student's food choices. This is a change I would like to be a part of on campus to make a difference.
Jeremiah Yorker: Currently, I'm a senior at ASU pursuing a bachelor's degree and Communication and a minor in nutrition. I'm originally from Atlanta Ga. At the age of 18 I moved to Upstate NY. Where I would spend a lot of time traveling to Canada for fun. Then I moved to Az for school. I currently work for the ASU football Recruiting department. After college, I would like to pursue a career in the football department. Finally, I would like to start a business within the next year to produce another source of income. In my free time, I like traveling and I enjoy learning about crypto.
My name is Min Ko, and I am junior at Arizona State University studying mechanical engineering. Although I am a citizen of the United States of America right now, I was born in Yangon, Myanmar. My family and I came to the states as political refugees in 2009. A few months later, I started my freshmen year of high school at Central High School from which I graduated. Especially as an engineering student, I am so proud and excited to be a part of this project as it gives me a chance to make difference in the community no matter how small or big it would be. I am looking forward to see what my team and I could achieve with this project utilizing the all the resources our school provides us.
Hello! I'm Leah Gronquist! I am a sophomore at ASU, and studying Communications. I am taking this Food, Health, and Climate Change course for a humanities credit and to learn more about how I can contribute to help the environment. With this project, we want to educate the students at ASU about the importance of understanding how to read food labels and the differences between best by, best used by dates and understanding how to read nutrition labels. We want to limit waste and help students eat better nutritional meals!