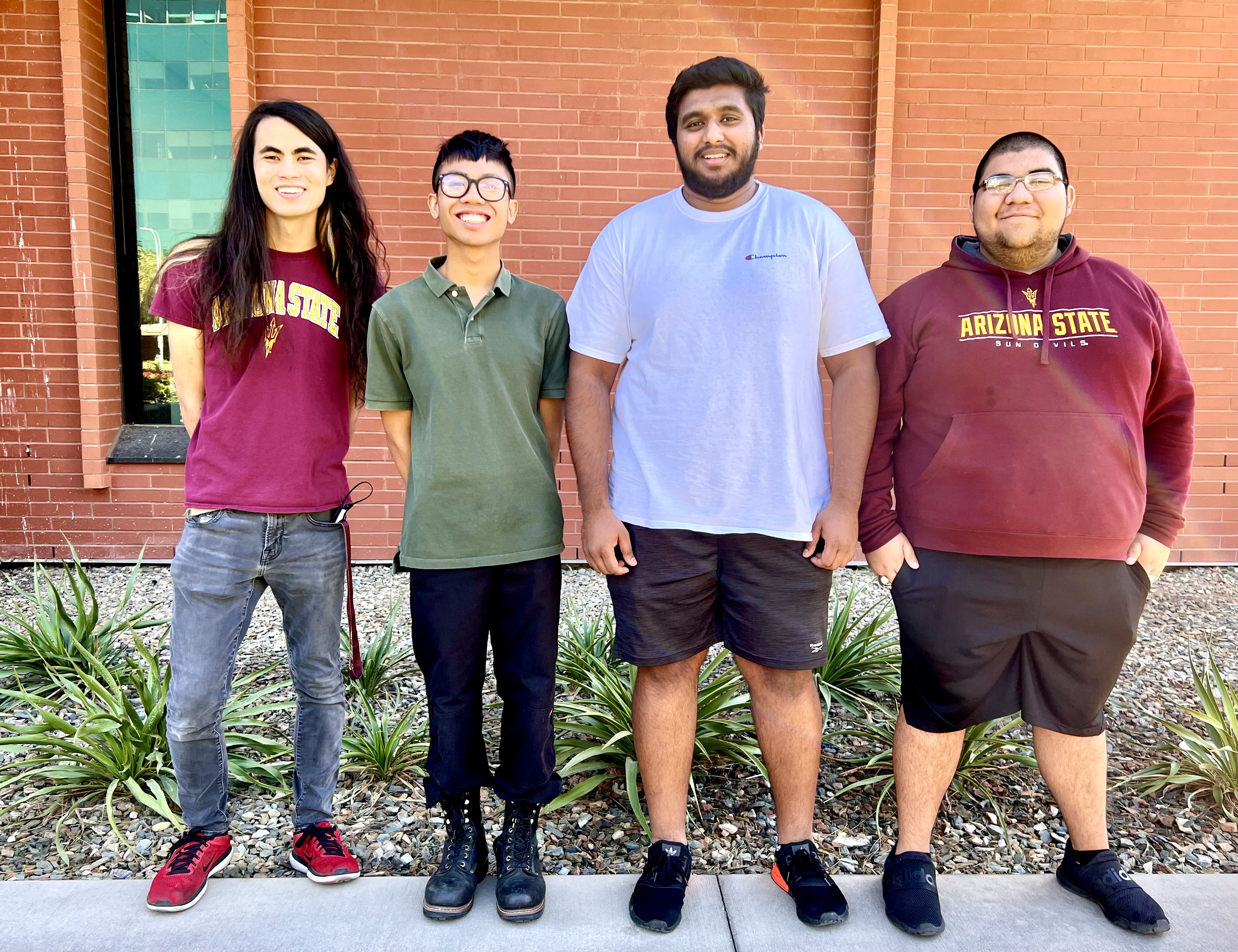 From left: ASU student Anthony Un, Jhanz Marco Garcia, Cyrus Eapen, and Darwin Cruz. Photograph by Maureen Kobierowski, ASU Humanities Lab.
Immigrant Households and Barriers to Vaccination
Lab: Epidemic Emergences, Fall 2021
Instructors: Jennifer Brian, Cora Fox
Type: Campaign
Tags: Immigration, Vaccination, Health and Wellness, Epidemiology, Transborder Studies
Team: Jhanz Marco Garcia, Cyrus Eapen, Anthony Un, Darwin Cruz
Learn more about this Lab
About the outcome
Immigrant households face numerous barriers to vaccination, including a lack of access to insurance and transportation, misconceptions around eligibility and care, and a fear of retaliation or deportation if their information is made public. Working with professors in law, epidemiology, transborder studies, and communications, this project will create infographics, pamphlets, and other information for health centers and clinics to share with the community.
About the team
Jhanz Marco Garcia: I was born in Davao City, Philippines. My family immigrated to Arizona in 2004. I graduated from Sequoia Choice Arizona Distance Learning School with high honors at the start of the COVID-19 pandemic. As of November 2021, I am a sophomore at Arizona State University majoring in anthropology. I plan to use my training in anthropology to contribute towards a culturally sensitive healthcare environment and overall health equity.
My name is Cyrus Eapen and I am a senior at the Barrett Honors College majoring in Biomedical Sciences with a certificate in Evolutionary Medicine. My passion is to pursue a career in medicine and on my path I have been able to see firsthand the inequality present in access to healthcare. Thanks to the Humanities Lab I aim to address these issues and hopefully make a difference in my community.
Anthony Un is a junior studying anthropology and microbiology at Barrett, the Honors College. Anthony is originally from DeKalb, Illinois, and is pursuing a career in Public Health or Microbiology research. His goal is to make a positive change in his community
Darwin Cruz: I was born in Bullhead City, Arizona. My family has lived in Arizona all my life. I graduated from River Valley High School with honors at the start of the pandemic. I am currently a sophomore at Arizona State University majoring in Civil Engineering. I plan to use my knowledge to incorporate ancient civilization aesthetics into my constructional work and help develop industrial techniques.