Note: The Seize the Moment pilot program has ended, please stay tuned for future updates.
Shaping tomorrow, today, requires path-breaking, creative solutions
Planning for the future has never been more critical, as an alarming "syndemic" of intersecting crises—the coronavirus pandemic, racial injustice and cascading environmental hazards—destabilize social systems and threaten human survival across the planet.
Science and technology need the arts and humanities
Today's crises require engagement with critical questions that underlie the distressing symptoms currently overwhelming us. How do the crises of the current syndemic interconnect? What better choices can societies make to counteract the flawed choices that have led to the syndemic? How have existing institutions and social and scientific practices failed to prevent the crises we currently face?
Beneath these urgent questions lie even more basic ones: What does it mean to be human? To be humane? How can individual liberty in a democracy be balanced with collective responsibility? How can cultural differences in values be accommodated in considering what might lie ahead?
Seize the Moment
At this critical time in human history, Seize the Moment is designed to address the challenges of the current moment through transdisciplinary collaborations in the arts, sciences, humanities, and technology in pedagogy, research, and public engagement.
Together, we believe these fields are uniquely well-positioned to engage with the compelling questions of our time and to forge thoughtful, creative pathways toward deeper understanding of and novel frameworks for addressing them.
Seize the Moment is an initiative of Leonardo, the Humanities Lab and the Julie Ann Wrigley Global Futures Laboratory, and is made possible by a Strategic Initiative Fund from the Office of the President of Arizona State University.
Events, programs, and opportunities
Impact Outcomes
Turning education into action
Working together in transdisciplinary, intergenerational teams, The Humanities Lab is an experimental space where students and faculty find real-world, hands-on solutions to complex problems in the community. Rather than writing papers, students produce podcasts, videos, performances, policy proposals, and other outcomes with public impacts.
Amplifier mini-grants and Beyond the Lab fellowships provide funding and resources to take these projects even further. In the past, Beyond the Lab fellows have produced a podcast and children's book that helped children cope with the devastating effects of Hurricane Maria on Puerto Rico. Another lab revamped ASU maps with a university-wide audit campus accessibility.
Amplifier mini-grants and Beyond the Lab fellowships are open to current Humanities Lab students. Funding and deadlines vary.

Leonardo Labs
Fostering transformation through arts, science and technology
An extension of Leonardo, Leonardo Labs use a transdisciplinary arts, science, and technology perspective to address the challenges of today and those yet to emerge.
Cultivating the 5 C's of core creative competencies, students and faculty work in new media art forms, experimental publishing, and digital innovation to humanize digital culture, build resilience, and navigate other unique challenges of the technological world.

Seed Grants
Addressing the urgent crises of the day
Bringing together ASU faculty across multiple disciplines, Seed Grants facilitate the collaborative, transdisciplinary solution-focused scholarship called for by the current syndemic.
Each seed grant offers up to $10,000 to support faculty research projects and activities that lead to tangible outcomes in the community. Faculty are also required to apply for larger grants or obtain external support that increases the project's impact.
Applications are accepted twice a year and are open to ASU faculty of any level, campus, or discipline.

Leonardo LiftOff
Showcasing the latest in artistic innovation
Tapping Leonardo's extensive networks of transdisciplinary scholars, artists, scientists, technologists, and thinkers, Leonardo LiftOff is a dynamic showcase for art and ideas that are shaping the future.
Through interviews, features, and live pitch contests, community members will get an up-close, personal experience with the leading artists of the day.
More information about Leonardo LiftOff will be announced soon.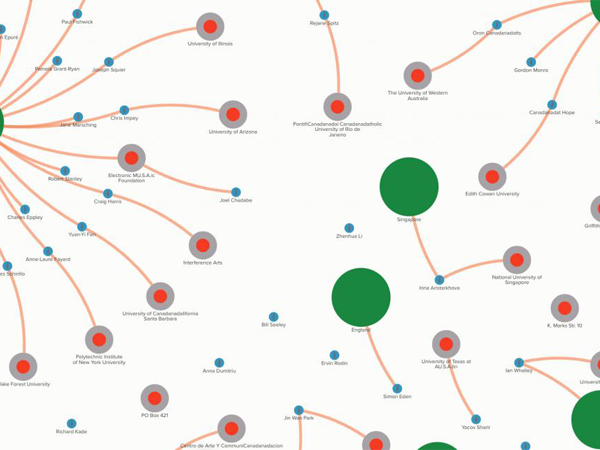 Our directors
Diana Ayton-Shenker
Diana Ayton-Shenker is CEO, Leonardo/ISAST (International Society of Arts, Science, Technology); Executive Director, Leonardo; and ASU Professor of Practice, School for the Future of Innovation in Society and School of Arts, Media, & Engineering. Diana has published four books, including, A New Global Agenda, produced NewBabel, a 10-story tall A.R. public art installation (Union Square Park, NYC). As Fast Forward Fund founder, and CEO of Global Momenta, she was honored by President Bill Clinton, named among "25 Leading Women Changing the World" (Good Business NY), and featured among 31 Inspiring Women in Nonprofit Management (UNC). Diana speaks four languages and holds an LLM (International Human Rights Law, University of Essex Law School), and a BA with Honors (International Relations, University of Pennsylvania). She was inaugural Social Innovator in Residence at Wharton, Global Catalyst Senior Fellow at The New School, Senior Fellow at Bard College, and has worked with Human Rights Watch, P.E.N., Mercy Corps, and the United Nations.
Sally Kitch
Sally Kitch is University and Regents' Professor of Women and Gender Studies in the School of Social Transformation at ASU. She is founding director of ASU's Institute for Humanities Research and the Humanities Lab. In both positions, she has brought attention to the role of the humanities in addressing grand social challenges. As a women's studies scholar, Kitch specializes in feminist and cultural theory, feminist epistemology, environmental humanities and eco-feminism, and historical links between gender and racial ideology. Three of her six books have won national prizes. Recent books include The Specter of Sex: Gendered Foundations of Racial Formation in the U.S. and Contested Terrain: Reflections with Afghan Women Leaders. Recent articles include "Eco-Sin: A Proposal for Environmental Action," "Protection and Abuse: The Conundrum of Global Gender Inequality," "What's Really Toxic in the Anthropocene?" and "How Can Humanities Interventions Promote Progress in the Environmental Sciences?" She was a PI on a transnational Mellon Foundation Grant, Humanities for the Environment, from 2013-15 and continues working with that project today. Kitch has degrees from Cornell University ( BA, Phi Beta Kappa), the University of Chicago (MA, University Fellow); and Emory University (PhD, University Fellow; Danforth Foundation Fellow).
Our partners
Leonardo
Leonardo
Driving innovation at the intersection of arts, sciences, and technology, Leonardo with Arizona State University is an enterprising think tank that integrates hybrid, creative inquiry and practice as catalysts to solve compelling problems, explore timeless mysteries, and shape a finer future. Over the last forty years, Leonardo/the International Society for Arts, Sciences and Technology (Leonardo/ISAST) has created opportunities for the powerful exchange of ideas among practitioners in the arts, sciences, and technology. Through publications with the MIT Press, workshops, and public programs such as our LASER (Leonardo Art Science Evening Rendezvous) series and world renowned artist-scientist residencies, Leonardo facilitates cross-disciplinary research and creative practice to catalyze fruitful solutions for the challenges of our time. Leonardo's cross-disciplinary approaches seek to establish sustainable environmental practices, spread global scientific and artistic literacy, create technological equity, and encourage freedom of thought and imagination.

To learn more about Leonardo, visit their website at http://leonardo.asu.edu or follow them on Twitter at @LeonardoISAST.

Humanities Lab
The Humanities Lab
The Humanities Lab at Arizona State University is an experimental space where interdisciplinary faculty teams work with students from a variety of academic and cultural backgrounds to investigate grand social challenges, construct researchable questions that delve deeply into those challenges, and generate possible approaches to complex, "wicked" issues like immigration, health, and climate change, for which there are no easy answers.

In a one- or two-semester classroom experience, students and faculty work in intergenerational collaborative teams, synthesize their research outcomes, and disseminate those outcomes to appropriate publics—in op-ed pieces, performances, art exhibits, public dialogues, e-books, videos, or other media. In the process, both students and the public recognize the generative nature and social significance of the humanities.

As America's #1 university for innovation, it is especially appropriate for ASU to embrace this obligation and develop programs that encourage students to reflect on, deeply discuss, and prepare to address issues such as health, climate change, immigration, sexual violence, and information overload. The Humanities Lab is a crucial component in this effort.

To learn more about the Humanities Lab, visit their website at http://humanities.lab.asu.edu.
Global Futures Laboratory
The Julie Ann Wrigley Global Futures Laboratory
Since 2004, ASU has become a global leader in sustainability efforts—creating the Global Institute of Sustainability, launching the first School of Sustainability in the U.S., deploying the largest solar energy portfolio of any university in the U.S. and more. The emergence of the Julie Ann Wrigley Global Futures Laboratory at Arizona State University is the next step in our continual evolution. It represents the urgent belief that we can and must make a meaningful contribution to ensuring a habitable planet and a future in which well-being is attainable.

Using the model of the multi-focused National Laboratories, the Global Futures Laboratory is creating a platform for an ongoing and wide-ranging exchange across all knowledge domains to address the complex social, economic and scientific challenges spawned by the current and future threats from environmental degradation. This platform positions a new world headquarters for an international network of scientists, scholars and innovators, it lays the foundation to respond to existing and emerging challenges and it uses innovation to purposefully shape and inform our future.

The Global Futures Laboratory provides key engagement spaces for scientists, educators and leaders across ASU and around the world to address critical issues related to the future of planet Earth. Rather than solving problems after they arise, we seek to design a future in which humanity not only survives, but thrives.

To learn more about the Global Futures Laboratory, visit their website at https://globalfutures.asu.edu/.

Get in touch
If you have any questions or would like to talk more about the initiative, please contact Seize the Moment Initiative Coordinator Bri Noonan at 480.965.4262 or blnoonan@asurite.asu.edu.