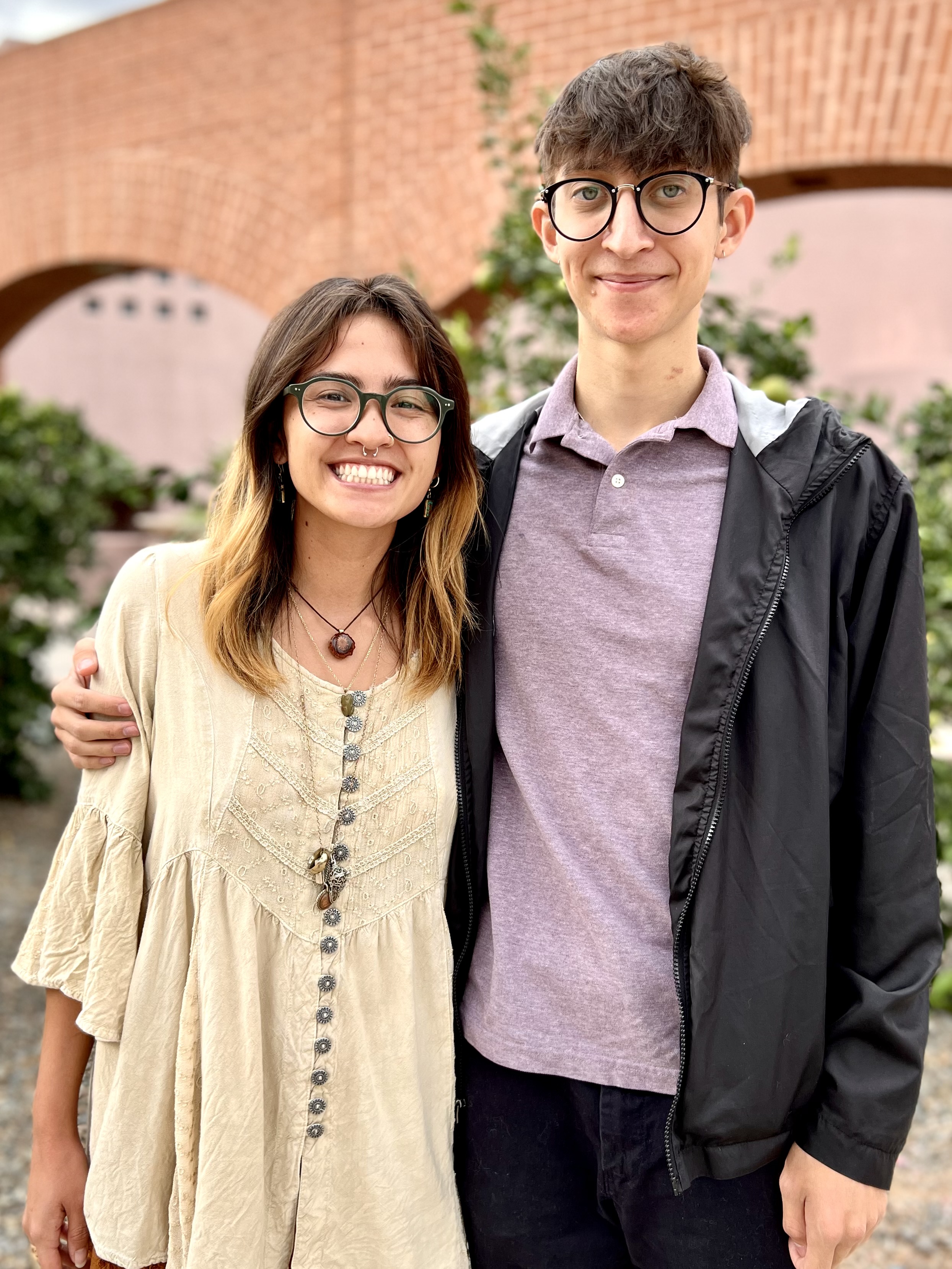 From left: ASU students Ziggy Bowker and Zane Encinas. Photograph by Maureen Kobierowski, ASU Humanities Lab.
Old McDonald's Farm
Lab: Food, Health and Climate Change, Fall 2021
Instructors: Joni Adamson, Rimjhim Aggarwal
Type: Art, Performance
Tags: Food, Sustainability
Team: Zane Encinas, Ziggy Bowker
Learn more about this Lab
About the outcome
For many low-income communities, McDonald's and other globalized fast-food chains are more accessible and affordable than grocery stores and farmers' markets. With such high rates of obesity and heart disease, the negative implications for the nation's health are undeniable.
In response to public backlash about the lack of nutrition in their food items, McDonald's has allocated millions of dollars in PR to convince consumers that their meals are a part of a healthy diet without any meaningful material changes to their business model.
Staged as an interactive and immersive performance art piece and installations, Old McDonald's Farm is a parodic imagining of a dystopic, yet eerily possible future that confronts the audience with the embarrassing humor of greenwashing in the food industry while simultaneously evoking reflection on the food swamps, local foods, the fast-food industry, and health.
About the team
Zane Encinas is a senior majoring in English, philosophy, and sustainability with a minor in sociology and certificates in environmental education, environmental humanities, and social science research methods. They are captivated by the potential art has as a medium for environmental education that is transformative and meaningful.
Ziggy Bowker is a senior studying Sustainability with a minor in Biological Sciences and a certificate in Sustainable Food Systems. Ziggy is an Ambassador for the School of Sustainability, works on building vertical urban gardens, runs a free market in Tempe, and is the president of a sustainability project-based club on campus called Campus Student Sustainability Initiatives. Ziggy hopes to work in wildlife conservation in the future and help create a community of people who are reconnecting themselves with our environment.