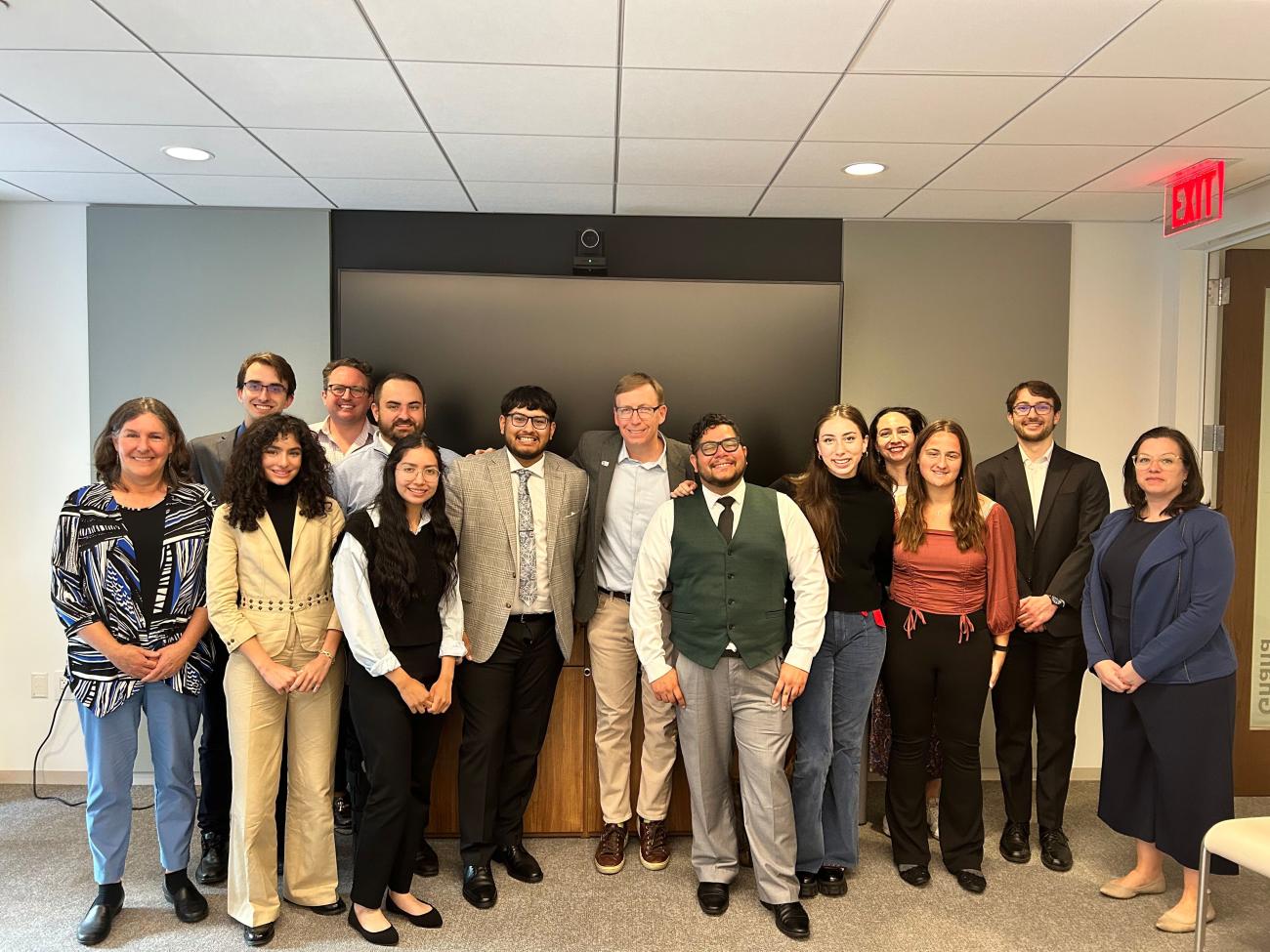 ASU Humanities Lab students present climate change research to government officials in Washington, D.C.
June 12th, 2023
A group of Arizona State University students got a glimpse into climate change and United States foreign policy this spring.
The Humanities Lab course, "Diplomacy Lab: Latin America", explored and investigated how urban communities in Brazil address climate change and developed a research project to present to several national agencies.
In partnership with the Diplomacy Lab in the U.S. Department of State, the transdisciplinary course addressed climate risks in the vulnerable cities of Rio de Janeiro, São Paulo, Brasília, Recife and Porto Alegre.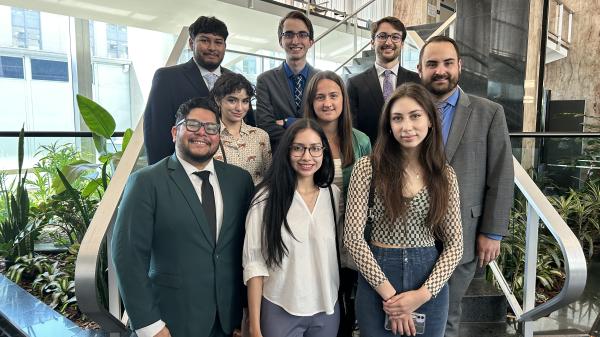 "Climate change is still a fresh topic in many Brazilian cities," said Glen Goodman, the lab's co-faculty and a clinical assistant professor with the School of International Letters and Cultures. "A lot of the efforts in the country are focused on the Amazon, but the majority of the country's population who are affected by these issues live in the major urban cities."
The students collaborated with representatives from the State Department and the U.S. Embassy Brasilia to present solutions on how these communities could adapt and mitigate the effects of climate change.
The course aimed to demonstrate how communities can address the climate crisis and "underscore the critical role of multi-sectoral, multi-scaler partnerships to simultaneously address climate crisis and racial inequality," according to the course's webpage.
Their research projects offered the State Department a fresh perspective on climate change in heavily impacted communities and allowed ASU students to get a firsthand look at a new angle of U.S. policy abroad.
Kyle Hoopes, a global technology and development graduate student, participated in the lab to better understand global sustainability issues.
"I'm drawn to the idea of sustainability because there is much more to it than just climate change," he said. "That is the big topic, but this class allowed us to explore climate change and different crises in unique ways that a book or resource material could not."
Hoopes earned his bachelor's degree in sustainability from ASU in 2022. The Diplomacy Lab: Latin America gave him the opportunity to design research-informed solutions to social issues related to climate change in Latin America, which he believes is an important cause.
"The Amazon is no longer the largest continuous forest in the world because of human activity," Hoopes said. "So how do you ensure that these programs are in place to help ensure continuity of the human species in general, but especially how we interact with the natural world?"
Daniela Villarreal, a senior studying Spanish and Italian language and culture, enrolled in the Humanities Lab course to learn more about Brazil, gain credits toward the Brazilian certificate she is pursuing and to explore environmental health and social justice.
"Climate change can positively impact one community and negatively impact another," she said. "Rising global temperatures, deforestation and pollution are some of the consequences of climate change and addressing these issues can help protect ecosystems."
Trip to Washington, D.C.
In addition to classroom activities and coursework, nine students enrolled in the lab took part in a two-day trip to the nation's capital.
Participants visited the U.S. Capitol, the State Department, Arizona Senator Mark Kelly's office and the Peace Corps.
The trip allowed the students to understand the various careers surrounding global foreign policy and sustainability.
Students also presented their semester research to ambassadors and other leaders in the State Department and Embassy Brasilia.
"It was amazing to see the confidence grow in the students during the trip," said Mary Jane Parmentier, the lab's co-faculty and professor with the School for the Future of Innovation in Society. "They met with high-profile figures and got comfortable sharing their story, research and learning about international affairs or government opportunities."
"I'm super proud of the students because their presentations to the State Department were fantastic. They made us proud as instructors and ASU proud as a university," Goodman said.
They ended their trip with a Brazilian dinner at the ASU Barbara Barrett and Sandra Day O'Connor Washington Center, where they met with current ASU students studying in Washington, D.C., former ambassadors, Peace Corps representatives and other international affairs officials.
"The trip was a pivotal moment for me," Hoopes said. "Taking what we were working on and presenting it to several entities was rewarding and helped me solidify how important this work is."
"The trip to Washington, D.C. specifically aligned with my goals of working in fields where one of the focuses is on international development," said Villarreal. "To have opportunities like this makes me greedy for more. It gives me a direction for what to search for when looking at the next steps."
Goodman and Parmentier are already thinking about expanding and improving the course for future semesters, and the Humanities Lab is eager to offer it on a regular basis. There is also a proposal to add an optional spring break study abroad component to Brazil in 2024.
"We want to build upon the success of the first semester," Parmentier said. "We know how beneficial this can be and want to continue to grow and evolve the course from here."

"Ultimately, the trip's design came from our Washington connections but the funding and support came from The College and humanities dean Jeffrey Cohen. This would not have been possible without that support and enthusiasm for this opportunity," Goodman said.
Stephen Perez —Marketing and Communications Coordinator, The College of Liberal Arts and Sciences