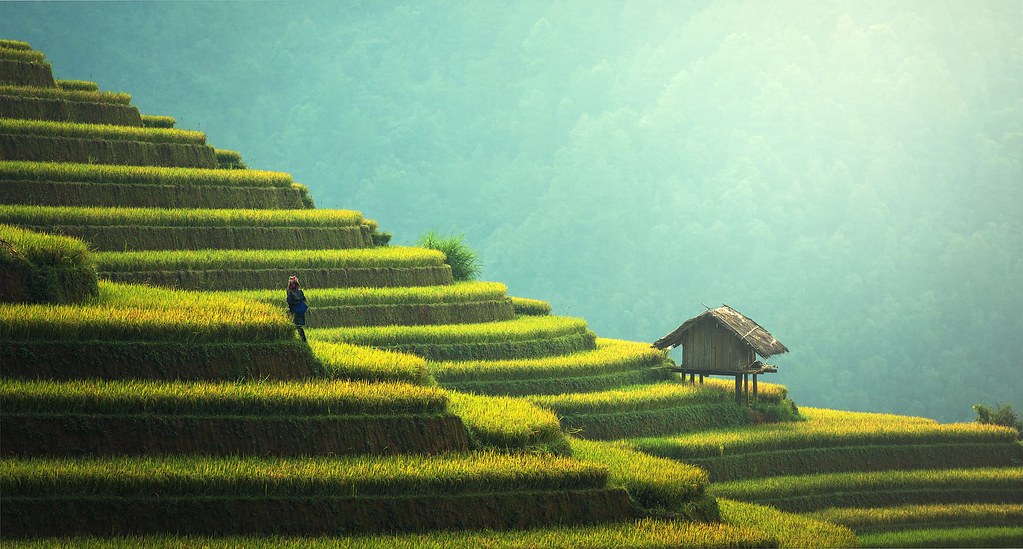 Food, Health & Climate Change Impact Outcomes
Food, Health & Climate Change
Students in the Food, Health & Climate Change Lab, employing both the humanities and economics, worked with faculty from the English Department and School of Sustainability—as well as local food system stakeholders like local schools and businesses—to develop alternative visions for the future of food. After a Humanities Week event that used narratives to make sense of food systems, the students began working on a variety of interventions to promote sustainability, food justice, and health.
Food Stories Event
As part of Humanities Week at ASU, Food, Health, and Climate Change students partnered with Climbing Vines, the Environmental Humanities Initiative, and the College of Global Futures for an exploration of food stories and a look at more equitable food futures. Students led the audience through the agricultural roots of ingredients, their cultural significance, and actual journey they take as they make their way from farm to table. Afterward, Climbing Vines, an environmental humanities student organization, and the Environmental Humanities Initiative—a partnership between The College, SFIS, and the Global Institute of Sustainability and Innovation—talked with the audience about their efforts to create a more equitable food future. Also at the event was a table of international foods to further demonstrate how storytelling and culture influence food systems.
Intervention Tabling
Food Label Swag Bags
The Food Label Swag Bag team of Lab students set out to educate the ASU community on how to understand and properly read food labels to minimize food waste. They created informational food label cards, surveyed passersby on their food waste knowledge, and handed out tote bags to encourage conscious grocery shopping habits. See their research presentation here.
Old McDonald's Farm
A team of two Lab students parodied the greenwashing strategies of large consumer chains by portraying themselves as farmers representing a purportedly health-focused, environmentally conscious pilot program by fast-food franchise McDonald's. The performance was intended to encourage reflection on local food markets, fast-food, and marketing strategies. See their research poster here.
Plastic Reduction - Sporks Up!
In an effort to reduce plastic waste, the Lab's Plastic Reduction team designed an impact outcome that included handing out reusable sporks to the ASU community. In exchange for the sporks, participants traded a few minutes of their time to complete a digital survey easily accessed through the scan of a QR code. The survey was designed to gauge the ASU's community's sustainability habits as well as their attitudes toward reusable cutlery vs. single-use cutlery. After the event, the Plastic Reduction team presented their results in a research presentation that can be viewed here.
The Plastic Reduction- Sporks Up! team has also decided to move their initiative forward as a Humanities Lab Beyond the Lab team in the Spring 2022 semester. You can read more about their initial semester of work in this ASU News article.
FoodPod: Decolonizing the AZ Diet
Hoping to educate the public about the complexity of food systems, this Lab team created a podcast in which they interviewed prominent stakeholders in the local Maricopa County food landscape. See their research presentation here.
Enhancing Children's Health Through Gardening
The Sustainable School Garden team assisted a local Title 1 school in revitalizing their school garden and establishing a system for maintaining the garden. The aim of their impact outcome was to decrease the environmental impacts of industrial food production, help children think about how the natural world functions, and empower the community to produce their own food. Read more about their mission and the results of their intervention here.
ASU Sustainable Food Map
Using ArcGIS and sustainability surveys, the Sustainable Food Map team created an interactive map that assigns numeric ratings to restaurants and food establishments on the ASU Tempe campus according to their proven commitment to sustainability. The ratings are further separated out to account for larger chains and smaller food providers based on resource availability. The team also surveyed students to gauge consumer preferences on campus and to understand how the map may be used. View their ArcGIS Storymap here.
The Heritage of Seed and Story
The Heritage of Seed and Story team of students sought to spread awareness of local food issues—food sovereignty, historical injustice in agriculture, indigenous food practices, and health—and so produced a documentary titled "The Heritage of Seed and Story." See a clip of the film here or view the full documentary here.
Grants
In order to earn the funds needed to initiate these projects, our Food, Health, and Climate Change students applied for and received the following grants:
– Ashley Tapia, Toron Williams, Jeremiah Yorker, Min Ko, and Leah Gronquist were awarded an Amplifier Mini-Grant for their Food Label Swag Bags project.
– Zane Encinas and Ziggy Bowker were awarded an Amplifier Mini-Grant for their Old McDonald's Farm project.
– Taina Diaz-Reyes, Mohadeseh Mousazadeh Miandehi, and Kirby Skoric were awarded an Amplifier Mini-Grant for their Heritage of Seed and Story project.
– Sebastian Ching, John Stachnik, Madison Canon, Mitskui Tanigaki, Parker Philips, Jasmin Otto, and Eliana Burns were awarded an Amplifier Mini-Grant for their Plastic Reduction project.
– Alma Varon, Samantha Esparza Alcantara, Chloé Billingsley, and Marcelo Lomelin were awarded an Amplifier Mini-Grant for their FoodPod: Decolonizing the Arizona Diet project.
– Vanessa Delgado, Azita Martin, Eve Levi, Hannah Skocypec, Jake Mitrius, and Jacine Gillett were awarded an Amplifier Mini-Grant for their Sustainable School Garden project.
– Sophia Schroeder, Jane Coghlan, Linette Kalandos, and Kaitlyn Lee were awarded an Amplifier Mini-Grant for their Sustainable Food Map project.
"...integrating creative fiction, films, and documentaries into the course... led to the kinds of conversations I have never had in my own classes related to the historical roots of conditions we are facing today."
- Rimjhim Aggarwal, Food, Health, & Climate Change Co-Instructor
"Although Prof Aggarwal and I had worked together on grant projects before, I had never had the pleasure of seeing her teach. Nor was I as familiar with the policy issues as she, so I was able to put fictional works into a much deeper, and more policy-oriented context."
- Joni Adamson, Food, Health, & Climate Change Co-Instructor
"Go out to a farm, farmer's market, or restaurant that produces foods made from species native to southern Arizona. It will give you a much deeper appreciation of the diversity and vitality of food traditions in what many settlers once believed to be a desolate, lifeless land."
- Taina Diaz-Reyes, Food, Health, & Climate Change Student
"[The Lab was] a great opportunity to have a positive impact on the community around me by encouraging a more sustainable environment."
- John Stachnik, Food, Health, & Climate Change Student
Beyond the Lab
In the Spring 2022 semester, the Plastic Reduction group from the Food, Health, & Climate Change Lab will extend their outcome into a Beyond the Lab project. Read more about their upcoming work here.
Note: The views presented or expressed on this page are those of the speaker or author only and do not necessarily represent the views of Arizona State University.