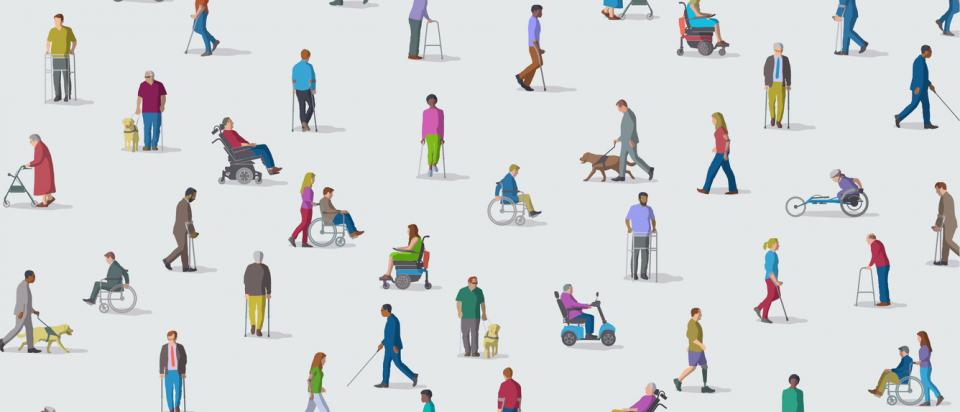 Disrupting Dis/Ability Impact Outcomes
Students in Disrupting Dis/Ability had the opportunity to work with faculty from the School of Social Transformation and the School of Humanities, Arts and Cultural Studies to explore key questions concerning cultural narratives of dis/ability in our world today. Students were asked to imagine projects as "disruptions" designed to intervene in structures of ableism. Through reading, research and course discussions, students decided to focus primarily on structures of abelism within higher ed. Student teams worked with consultants on and off campus including ASU's ADA Compliance Coordinator regarding physical space, ASU's IT Accessibility Coordinator regarding virtual space, community leaders from local nonprofit organizations that support people with intellectual disabilities (Detour Theater Company) and investigative journalist, author and disability advocate, Amy Silverman. Students created their own teams and dedicated their time to pursuing change through a variety of impact outcomes.
Scroll down to learn more about a few of these groups and their work!
Mapping Access
Team Access – comprised of Jordyn Stebbins, David Jaulus, Christine Leavitt, Samantha Gillette, and RaNiyah Taylor – worked closely with ASU's ADA Compliance Coordinator (Peter Fischer), GIS Enterprise Developer (Karen Fisher), and Director of Digital Transformation (Bobby Gray) to create an accessibility 'layer' to ASU's Interactive Map that identifies accessible restrooms, building entrances and other pertinent information regarding physical access on all 4 ASU campuses! Click here to view more about this Beyond the Lab project.
Accessibility Coalition Constitution and Bylaws
Team Coalition – comprised of Mohammad Sultan A Aljohany, Rachel Caldwell, Chris Ervin, Hannah Grabowski, Kaitlyn Martinez, Alonso Rodriguez, and Garrett Tanner – laid the groundwork for creating ASU's first student-led Accessibility Coalition and becoming the newest member of ASU's Council of Coalitions. This work included recruiting existing student organizations serving disabled students, lobbying current council members for support, holding town halls to raise awareness and solicit constituency support and drafting a constitution for the new Coalition. Click here to read their constitution and here for their supplementary presentation on their values and goals for their project.
2021 Update: Congratulations to Team Coalition for continuing their work beyond the course of the Lab and becoming accepted as the newest member of ASU's Council of Coalitions! Read more HERE.
#voicesofASU
A team comprised of Anjali Mistry, Taylor Carstens, Kevin Kobey, and Lucas Selby worked to improve ASU Counseling services by soliciting student narratives of their counseling experiences – the good and the bad. They compiled student voices in a 9-page zine they distributed electronically and placed strategically around campus. Click here to view their zine and read more about it in their State Press article here.
Workshops
Team Workshop hosted two pilot workshops and created sample syllabi designed to help ASU instructors create accessible and inclusive learning materials and classrooms and intervene in the harm inaccessible learning materials can cause.
Student Testimonials
Disrupting Dis/Ability Discourses has 'changed my life'…I found throughout different course readings, linked videos, dialogue with friends, and profound statements from fellow classmates, I was living, in ways, with discourses about myself. Having transitioned from an able body to a disabled body, having had privileges and lost privileges…
Garrett Tanner
Junior in the Walter P. Carey School of Business pursuing a Marketing degree & Fall 2020 Disrupting Dis/Ability Humanities Lab student
In this Lab we are making real, progressive changes to benefit every single human that will come to and/or enroll at ASU.
RaNiyah Taylor
A student from the Fall 2020 Disrupting Dis/Ability Lab & Spring 2021 Beyond the Lab student
Collaborative Partners
– Adero Allison: Assistant Director, Arizona State University DRC and Co-Chair of the Accessibility Project
– Kathy Marks: IT Accessibility Coordinator, Arizona State University
– Peter Fischer: Accessibility (ADA) Compliance Coordinator, Arizona State University
– Rebecca Monteleone: Assistant Professor of Disability and Technology, The University of Toledo
– Amy Silverman: Freelance Journalist, Memoirist, and Editor