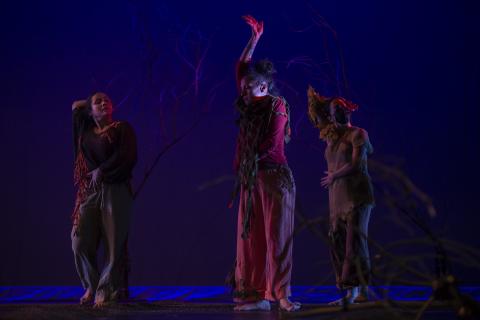 Title
Haikeus - Transmuting Ecological Grieving into Action
Interests
Dance
Environment
Interdisciplinary
Project Team
Mary Fitzgerald
Scott Cloutier
Galina Mihaleva
Barry Moon
Doug Nottingham
Coley Curry
Jenny Gerena
Liliana Gomez
Zarina Mendoza
Halley Willcox
Description
Combined with the unprecedented stress of the Covid-19 crisis and increasing social unrest, human-caused environmental disasters are having a profound impact on wellbeing, resulting in a dramatic spike in mental health issues. Studies are emerging daily around concepts of ecological grieving, stress, depression, anxiety, and a host of emotions that are surfacing and increasing in our modern times. From solastalgia, or eco-nostalgia, to eco-anxiety to eco-grief, our responses to climate change, environmental devastation, and social unrest can prevent us from taking positive action, often leading to existential crises.

Our proposed project, 'Haikeus: Transmuting Ecological Grieving into Action,' works directly at the interface of some of humanity's wicked problems, which are complex, challenging to solve, and hard to fully understand. In 'Haikeus,' translated from Finnish as "a sense of simultaneous sadness and gratitude,' we suggest that humans are experiencing sadness and the latter, gratitude, is a needed practice. At the intersection of wicked problems (i.e., climate change, food or water insecurity, housing crises, financial strain, or poverty), sits an overwhelming reality that humanity is struggling to live in balance with ourselves, one another, and our planet. We are seeking to directly focus on the emotional responses to this intersection through artistic, humanistic, and scientific exploration. We will then transmute such emotions into action through the power of creative performance, visual design, community engagement, and outcomes that seize the moment of shared ecological grieving.
Team Biographies
Mary Fitzgerald is a professor and the artistic director of dance in the School of Music, Dance and Theatre. Her creative practice includes contemporary modern dance choreography, performance, dance filmmaking, and socially engaged arts. She was a member of Kei Takei's Moving Earth for nearly ten years, performing and teaching internationally. She also has danced with A Ludwig Dance Theatre, Fred Darsow Dance, and several independent choreographers across the United States. As a choreographer, community arts practitioner, and dance filmmaker, Mary creates works ranging from large-scale trans-large disciplinary projects to intimate portraiture. Her projects have explored a range of issues around sustainability, urban development, and land use in desert cities. Over the past six years, much of her research also has focused on dance, women, and aging, investigating ideas around cultural attitudes towards the aging body, dance and wellness, and sustainability of the body-environment. Her work has been presented throughout the U.S. and abroad and has received
funding from such organizations as the Japan Foundation, Ministry of Culture in Mexico, National Endowment of the Arts, and Arizona Commission on the Arts. Mary's written publications on socially engaged arts, and women, dance, and aging have been featured in several journals and books, including Dignity in Motion: Dance Human Rights and Social Justice, Journal of Dance Education, and Dancing Across the Lifespan: Negotiating Age, Place, and Purpose.

Scott Cloutier (we/us/our) is an assistant professor and Senior Sustainability Scholar in the School of Sustainability and the College of the Global Futures. We founded and direct the Sustainability and Happiness Lab (Happy Lab), and the Sustainable Neighborhoods for Happiness™ (Happy Hoods) project, where our research centers on understanding when sustainable outcomes and happiness coincide. Our work involves multi-year research, teaching and applied collaborations to regenerate human, more-than-human, and community sustainability. Scott has completed projects in the Phoenix Metropolitan Area, Guatemala, Denmark, and on the Navajo Reservation in Arizona. Scott has degrees in civil, environmental, and environmental and biological engineering. We are also certified in and practice assets-based development, regenerative development, permaculture, natural building, applied shamanism, depth hypnosis, and the integrative healing arts. We are a military (USN) veteran and a lifelong farmer and advocate for remembering humanity's connection to and reliance upon nature, ancestors, and the wisdom of more-than-human families. Thus, our applied research is grounded in creative processes of attending, where researchers recognize aspects of co-being and co-becoming, relating to the world, and understanding ourselves in meaningful ways. We now focus on supporting local community hubs that enhance the sustainability and happiness of their surrounding neighborhoods, members, and the land they are situated on. Our latest applied research is in three main areas: regenerative practices that restore land, human and more-than-human individuals, and communities, (2) techniques, such as applied shamanism, that fulfill spiritual yearning and its relationship to self-actualization and flourishing, and (3) transcendent learning environments.
Galina Mihaleva is an associate professor in the School of Art. Her work and research deal primarily with the dialogue between body and dress, driven by the idea of having both a physical and a psychological relationship with a garment as a responsive clothing - wearable technology. Her art and design work has been shown in festivals, galleries and museums across United States, Asia, Central and South America and Europe. In 2007, she was nominated for the best design award at Cooper-Hewitt Design Museum. Galina received the Rumi award in USA and the first place at the Tiffany's Paris fashion week in 2016.
Barry Moon combines various forms of art and technology to create works that encourage meaningful interactions between humans and computers. This includes music compositions, interactive installations, and
digital art. Works for instrumental performance and computer have been performed at the International Computer Music Conference in 1998, 2004, 2006, 2013, 2014, 2016, 2017 and 2018. Other venues where this body of his work has received international attention has been at the Australasian Computer Music Conference in Melbourne and Perth, the Sonic Circuits festival in Toronto, the InterCollege Computer Music festival in Tokyo, the MIX.01 in Aarhus, Festival in Denmark and Sweden, the MAXIS Festival in Leeds UK, Digital Arts and Culture Conference in Doncaster UK, the real-time/non real time festival, Basel, Switzerland, and Śląskie Dni Muzyki Współczesnej in Katowice Poland. Barry is associate professor in the Interdisciplinary Arts and Performance program at Arizona State University.
Douglas Nottingham is a faculty member at Glendale Community College, where he teaches music theory, electroacoustic music, digital recording, and courses in the Music Industry Studies program. At GCC he also teaches applied percussion and directs the award-winning Glendale Community College Percussion Ensemble. In addition to his chamber, solo and creative research, he performs with the marimba groups Vespus and the Sonoran Marimba Band, the transmedia electronica collective pincushioned and the (in)famous avant-garde heavy metal vaudeville rock group, Skümbââg. As a solo percussionist and member of Phoenix's Crossing 32nd Street and the New Mexico-based LINKS Ensemble he has specialized in the performance of contemporary chamber works; This has led to rewarding collaborations, commissions and recordings with notable composers and performers from the US and abroad. He has appeared as featured artist at the conventions and symposia including the World Dance Alliance, Percussive Arts Society, the Society of Composers, the Society for Electroacoustic Music in the United States, the International Computer Music Conference and the Society of American Music. His recordings appear on the Neuma, Nonsequitor, Stradivarius and Wergo labels, among others.