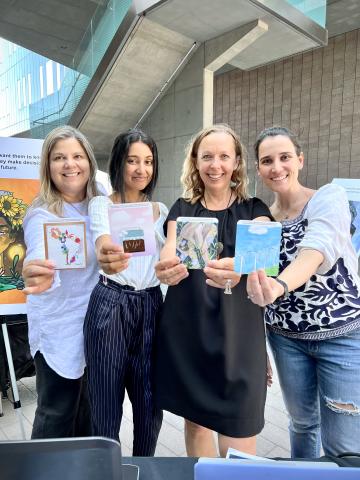 Project Team
Adriene Jenik
Andrew Freiband
Ann Nielsen
Iveta Silova
Description
The Turn It Around initiative focuses specifically on the role of education in turning around the environmental catastrophe. Mobilizing the power of socially engaged art to move people into action, this project is designed to 'move' politicians, policymakers, and educators into a different state of thinking, doing, and being. At the center of the initiative is one of the most basic learning tools—a deck of flashcards—designed by youth for decisions-makers at all levels to challenge them to think, see, and act in new ways. Called "Turn It Around!", the deck features cards displaying climate crisis-inspired artworks created by youth on one side, and motives, actions, and factors for policymakers to guide their decisions about climate futures on the other side.
Team Biographies
Adriene Jenik (she/they) is an artist, educator and end of life doula who resides in the high desert of California. Her computer and media art spans 3 decades, including pioneering work in interactive cinema and live telematic performance. She has been written about in The New York Times, published in The Drama Review, and recognized by the Rockefeller Foundation. Her current creative research practice spans "data humanization" performances, public climate future readings with her ECOtarot deck, and experiments in extreme experiential learning. She is also the creative producer of The Artists' Grief Deck. Jenik serves as Professor of Intermedia at the School of Art, Arizona State University, affiliate faculty in the School for the Future of Innovation in Society and Desert Humanities Center, and a sustainability scientist in the Global Institute of Sustainability and Innovation.
Andrew Freiband is an artist, filmmaker, educator, producer, and research-artist. His praxis sits among the many intersections of art, education, media, film, journalism, literature, social impact, international development, research, and strategic design. His creative practice consists of field-building around artists-as-researchers. As the 'Artists' Literacies Institute' he's convened professional development courses for artists in systems thinking, worked as a strategic designer for fine artists with social change ambitions, consulted and convened on interdisciplinary research with Cornell University and the United Nations among others, and produced arts-based 'civic interventions' on a national and global scale, including The Democratic Field with NYU's Verbatim Performance Lab, the Artists' Grief Deck with the NYC Voluntary Organizations Active in Disaster, and the Turn it Around! climate education project with UNESCO and the Open Society Foundations.
Ann Nielsen received her Ed.D. from Arizona State University in Educational Leadership and Supervision. Her interests in education and research have focused upon teacher professional subjectivities, teacher leadership, and school leadership using visual and qualitative methodologies.
Iveta Silova is Professor and Associate Dean of Global Engagement at Mary Lou Fulton Teachers College at Arizona State University. She teaches graduate courses in comparative and international education, education policy and evaluation, research design, and post/decolonial approaches to education research. She supervises PhD students undertaking research in the areas of globalization and education borrowing; post-socialist transformations; post-colonialism, decolonial studies, and border-thinking; artificial intelligence and education; nature-culture interactions in the Anthropocene; as well ecofeminism and environmental sustainability.
In the Media
Humanities Lab faculty and Seize the Moment Grant Awardees continue to do impactful work. Read more about Turn It Around Cards and their recent work here in ASU News.