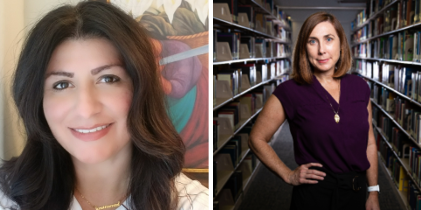 Interests
Latin American Studies
African and African American Studies
Project Team
Michelle Stuckey
Stephanie Lechuga-Peña
Description
The Arizona Cares - Women's Care Labor Testimonios project engages Black and Latina women in the Phoenix metro area in composing testimonios, of first-person narratives, to document their experiences of negotiating care labor and paid employment during the pandemic. We will compile participant testimonios into a public digital archive hosted by ASU. The archive will serve as a site of research for scholars, community practitioners, and policy makers to help inform future policy decisions and resource provisions.
Team Biographies
Michelle Stuckey is a clinical assistant professor and the writing program administrator for the Writers' Studio, a fully online first-year composition program in the College of Integrative Sciences and Arts. In this capacity, she leads curriculum design and faculty development for the program. Stuckey also oversees a course-embedded peer tutoring program, in which advanced undergraduates and graduate students mentor students in first-year writing courses. Stuckey contributed to the design and development of the Global Freshman Academy's English 101 and 102 courses, a collaborative effort that received the 2017 President's Award for Innovation.
Stephanie Lechuga-Peña is an Assistant Professor in the School of Social Work and has more than 20 years of experience in social work practice working with low-income youth and families. Drawing on Critical Race Theory and Latino Critical Race Theory, she examines parent engagement in low-income and subsidized housing neighborhoods and the barriers and facilitators Latinx youth experience in their educational outcomes. She is currently testing the intervention she developed, Your Family, Your Neighborhood (YFYN). YFYN is an intervention that works with families living in low-income and subsidized housing communities in Denver, CO and Phoenix, AZ. YFYN supports parents/guardians in their ongoing efforts to provide their children with an effective and supportive educational environment within a supportive and engaged community.