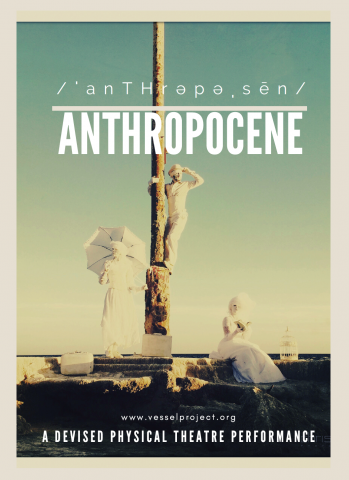 Project Team
Rachel Bowditch
Steven Beschloss
Karen Jean Martinson
Description
The convergence of the global syndemic—the COVID-19 pandemic, the climate crisis, social justice unrest, and social systems pushed to their breaking point—indicates an imperative for real change. While climate change, the pandemic, social unrest is urgent, scientific and didactic data for change can be opaque and off-putting. This is where performance comes in. Anthropocene is an original devised, physical theatre piece that explores the current geological epoch—where human activity has drastically impacted our climate, environment, and social conditions. This multi-year transdisciplinary performance research project combines innovative multimedia projection design, an original musical score, dance, and performance into a single endeavor bringing together the people and disciplines of ASU's School of Music, Dance and Theatre, Herberger Institute for Design and the Arts, School of Sustainability, and Global Futures Laboratory. It will premiere at ASU in Fall 2023 as part of the Theatre season. Anthropocene examines key questions: How do individual actions have a rippling effect on the planet? What human stories are embedded in the climate and social crisis? What can Indigenous practices teach us about sustainability? What actionable solutions will engender a sustainable future? How can performance prompt change and instill hope? Through somatic, poetic storytelling, Anthropocene presents a visceral, dynamic, performative response to global issues tied to human consumption, civil unrest, over population, and climate change.
Team Biographies
Dr. Rachel Bowditch (Project Director) is a Full Professor in Theatre and the Coordinator for Graduate Studies in Theatre in the School of Music, Dance, and Theatre in the Herberger Institute for Design at Arizona State University. She is a theatre director and author of three books, On the Edge of Utopia: Performance and Ritual at Burning Man (Seagull/University of Chicago Press 2010), Performing Utopia co-edited with Pegge Vissicaro (Seagull/University of Chicago Press 2018) and Physical Dramaturgy: Perspectives from the Field co-edited with Jeff Casazza and Annette Thornton (Routledge 2018). She is currently working on her fourth book, The Rasaboxes Sourcebook: Inside Richard Schechner's Performance Workshop with Paula Murray Cole and Michele Minnick (expected Routledge publication 2023). Her performance and directing work specializing in devising and site-specific theatre has been featured at venues such as Childsplay, Mixed Blood, Northwest Children's Theatre, the Denver Center, Mesa Arts Center, Phoenix Art Museum, IDEA Museum, and Scottsdale Public Art and reviewed in the New York Times, Wall Street Journal, Theatre Journal, Newsweek, American Theatre, The Sun (NYC), The Village Voice, Time Out New York, Live Design, Rolling Stone, Vogue Italia, U.S. Airways Magazine, Channel 12 News, Channel 8/PBS, ABC 15 News, among other publications. Visit her website here.
Steven Beschloss (Project Narrative Specialist) is an award-winning writer, editor, journalist, filmmaker and content strategist. He is a Professor of Practice with a joint appointment from the College of Global Futures, the College of Liberal Arts and Sciences, and the Walter Cronkite School of Journalism and Mass Communication. He is the Founding Director of the Narrative Storytelling Initiative across the university, leads the Narratives focus of the Julie Ann Wrigley Global Futures Laboratory, and is a Senior Global Futures Scholar. His articles and essays on economics and politics, urban and international affairs, art, culture, science and education--from the U.S. and Europe--have been published by The New Yorker, The New York Times, The Washington Post, The New Republic, Smithsonian, The Economist/Economist Intelligence Unit, National Geographic and dozens of other print and online outlets. He has been nominated for a Pulitzer Prize, selected Journalist of the Year in Virginia and honored for his magazine writing by the American Society of Journalists and Authors. He is author of The Gunman and His Mother: Lee Harvey Oswald, Marguerite Oswald, and The Making of an Assassin and co-author of Adrift: Charting Our Course Back to a Great Nation with William Harris. Visit his website here.
Dr. Karen Jean Martinson (Project Dramaturg) is an assistant professor of dramaturgy in the School of Music, Dance and Theatre. Her scholarly and creative work interrogates contemporary U.S. American performance, neoliberalism and processes of identification, focusing on issues of race, class, gender and sexuality. Martinson is active in the Association for Theatre in Higher Education, where she holds the elected office of secretary.